GAME ON!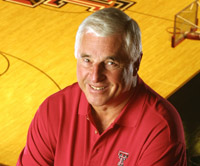 COLLEGE BASKETBALL'S GREATEST COACHING LEGENDS SAY OFFENSE IS THE BEST DEFENSE FOR PROSTATE CANCER AWARENESS CAMPAIGN

Despite the eye-opening fact that one in six men will be diagnosed with prostate cancer in his lifetime, the fears, misconceptions and stereotypes surrounding the diagnosis and treatment of prostate cancer have fueled men's aversion to step up to the line and be proactive about their health - which means they often wait until it's too late.

A new prostate cancer awareness campaign, called ON THE LINE, is aiming to change that.
ON THE LINE brings together an all-star line-up of athletes, sports commentators, celebrities and legendary sports coaches to encourage a dialogue between men and their family, friends and physicians about the risk factors and range of diagnosis and treatment options related to prostate cancer. ESPN, the acknowledged worldwide leader in sports, plays a key role on the team by serving as the media vehicle through which information about the disease is presented, often times in the company's signature sports vernacular – clever, creative humor to help demystify the topic.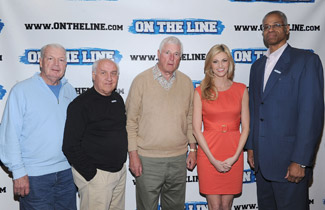 Leading the ON THE LINE launch is an elite team of legends, including prostate cancer survivor Digger Phelps, former NBC and CBS college basketball broadcaster Billy Packer, fellow legendary basketball coach Bob Knight, ESPN sports reporter Erin Andrews, whose father is a prostate cancer survivor, and former NBA star, Len Elmore.

Sports luminaries are going on the offensive to tackle this topic and battle prostate cancer through this creative campaign targeted to both men and women. Spokespeople involved in the ON THE LINE campaign include college basketball coaching legends Bob Knight and Digger Phelps, as well as former NBA star Len Elmore and sportscasters Erin Andrews and Billy Packer, and Erin's father Steve Andrews, a prostate cancer survivor.

Words of Wisdom from the Winningest Coach in College Basketball
Legendary Basketball Hall of Fame coach Bob Knight is considered one of the most successful coaches in college basketball history finishing his career with more wins (902) than any other head coach in NCAA Division I men's college basketball. His philosophy has always been to keep it simple:
"I like to teach with three word phrases like: 'Take. Good. Shots.' 'Make. Good. Passes.' 'Run. The. Floor.' And I think there are three word phrases that can apply here also: 'See The Doctor.' 'Pay Attention.' I think that there are some really great little phrases that can be used. But the worst three-word phrase of all is this: 'It's Too Late."

KNOW ABOUT IT
Prostate cancer is the second most common cancer in men in the U.S., after skin cancer, and the second leading cause of death among cancers in men (the first is lung cancer). One in six men will be diagnosed with prostate cancer during his lifetime. To beat this disease at its own game, it's important for men, and their loved ones, to know their risks, such as age, ethnicity/race, and family history.
Prostate cancer is rare before the age of 40, but the risk of developing prostate cancer rises rapidly after age 50. More than 80 percent of prostate cancers are diagnosed in men age 65 or older.
Often there are no symptoms, or the symptoms are not specific to prostate cancer and could be caused by something else. For instance, if you have to use the comfort station six times during a round of golf, you might have an issue with your prostate or your bladder, or maybe you just can't stay of out the cooler between shots. If you have weak or interrupted urine flow on a regular basis, stumble out of bed three times a night to hit the bathroom, pay attention and don't be afraid to discuss this with your doctor.

LEARN ABOUT IT
Whether you know nothing about prostate cancer or have already been diagnosed, it's important to keep gathering facts. Education is your best game strategy. Doctors frequently use two methods to help diagnose prostate cancer: the prostate-specific antigen (PSA) test, and the digital rectal exam (DRE), which is typically part of a complete physical exam. Men should ask their doctors if testing is recommended based on their risk factors, age and general health. If a diagnosis of prostate cancer is made, remember that many people are cured with the appropriate medical treatment. Tremendous progress has been made in the treatment of prostate cancer, and patients are living longer than ever before.

ON THE LINE draws on the expertise of an independent panel of prostate cancer physicians from the American Society of Clinical Oncology (ASCO), the world's leading professional organization representing doctors who care for people with cancer. Their expert panel provided the core clinical prostate cancer information, which serves as the basis for ON THE LINE's program content.



CHAMPIONSHIP PLAYBOOK: DEFEATING PROSTATE CANCER

Chair of the American Society of Clinical Oncology Prostate Cancer Expert Panel and Washington University in St. Louis Professor of Medicine Bruce Roth, MD, offers the following potential game-changing tips for men:

Know your risks
Educate yourself! Know your risk factors, which include: age, ethnicity and family history.

Recruit your doctor
Every man should discuss his individual situation and risk of prostate cancer with his doctor so they can work together to make a decision about disease screening, testing and/or treatment. If you are diagnosed, find a doctor, or group of doctors that treat large numbers of patients with the disease, and who are experts in the treatment techniques being offered.

Build a support team
Whether you're newly diagnosed or currently battling prostate cancer, find support for yourself, family members and caregivers. Know that you are not alone. Talk with your doctor about finding emotional and mental health support from health professionals, survivors and support groups to help you and your family cope with a cancer diagnosis. The diagnosis affects EVERYONE in the family.

Questions for Your Coach
ASCO offers tremendous patient resources at Cancer.net/prostate, including a list of recommended questions to ask your doctor, including:
What are the risks and benefits of screening for prostate cancer?
What type of prostate cancer do I have?
Can you explain my pathology report (laboratory test results) to me?
What stage and grade is the prostate cancer?
Would you explain my treatment options?
What clinical trials are open to me?
Which treatment, or combination of treatments, do you recommend? Why?
How will this treatment affect my daily life? Will I be able to work, exercise, and perform my usual activities?
If I'm worried about the cost related to my cancer care, who can help me with these concerns?
How will this treatment affect my sex life?
What long-term side effects may be associated with my cancer treatment?
Where can I find emotional support for me and my family?
Whom do I call for questions or problems?
Is there anything else I should be asking?
"You hear a lot about prostate cancer, and you don't think it will happen to you," says Coach Phelps, who scored a victory against the disease in 2010. "Men have got to get out of this mindset of 'wait for tomorrow.' Make the layup. What's a little blood work? What's the big deal about letting somebody do the physical to ensure you're okay? You just need to quit makin' excuses."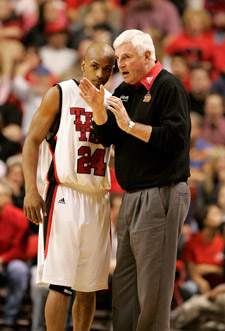 Nicknamed "The General", Bob Knight has won 902 NCAA Division I men's college basketball games, more than any other head coach. On January 1, 2007, he achieved his 880th victory, breaking the record held by Dean Smith. His 900th victory came on January 16, 2008. He was most recently the head men's basketball coach at Texas Tech before announcing his retirement on February 4, 2008.

TALK ABOUT IT
When coping with a major illness, don't keep your loved ones on the sidelines. It can be hard for men to communicate openly about such a sensitive subject, but fighting cancer requires a supportive team as it affects not only the man living with the disease, but also those who are closest to him – including family and friends. In fact, having a supportive team is an important role in how men cope with their diagnosis, treatment and recovery from prostate cancer.

3, 2, 1 ... TEAM
Erin Andrews, one of the most popular and recognizable national sports sideline reporters, has spent the past seven years with ESPN. Her father, Steve, is a six-time Emmy Award-winner as an investigative journalist for WFLA-TV in Tampa and a prostate cancer survivor.

"It's not easy to hear that your parents have cancer. It wasn't easy for me because my dad is such a rock," Erin says. "Those first couple of days were awful … then once we started to talk to people in our lives, we realized how common it is, and then it was time to get educated."

"When the doctor told me that I had prostate cancer, quite honestly, I wasn't educated about it. You get off the phone and you have to process this. The anxiety, the fear. I have to tell my wife I have cancer, I have to tell my daughters I have cancer," says Steve. "After the initial shock, the girls were fabulous. They were after information. They wanted to know what we could do. They were checking to see where I was in the process."

Steve adds that his family would make sure he was calling doctors back, and requesting more information about tests and treatment options.



BE AN MVP: STATS YOU NEED TO KNOW
Prostate cancer is a formidable opponent.

Prostate cancer is the most common cancer among men.
It is estimated that more than 30,000 men in the U.S. will die from prostate cancer this year.
Prostate cancer is the 2nd leading cause of cancer death in men in the U.S. after lung cancer.

Risk of prostate cancer increases as men age.
If your father or brother has prostate cancer, your risk doubles.
African American men are 60% more likely than white men to be diagnosed with prostate cancer.
1 in 6 men will be diagnosed with prostate cancer during his lifetime. (By comparison, 1 in 8 women will be diagnosed with breast cancer.)
For more information, download the men's and/or women's On The Line magazine at http://www.ontheline.com/men/#!prettyPhoto[iframe5]/0/ or visit the campaign at Facebook, Twitter, YouTube, and at http://www.ontheline.org.

Ladies, suit up
ON THE LINE teammate Us TOO offers the following tips on creating a great support network for your loved one:
Ask your loved one if he would like you to go with him to his doctor appointments and tests. Men often do not like to discuss their health, and may need an advocate to voice their concerns to the doctor. Also, knowing more about the disease and treatment options can help you to provide the necessary care and support to your loved one. Be prepared with questions to ask his doctor about the disease and treatment options. Find out what kind of side effects may occur after treatment and how they may affect your loved one's lifestyle.

ON THE LINE has enlisted the support of the organizations that are currently 'on the field' helping caregivers, supporting patients and survivors and leading the fight to find better treatments. These include: ZERO, Us TOO, Prostate Conditions Education Council (PCEC) and the Oncology Nursing Society (ONS). These teammates have joined ON THE LINE to provide their services and support to those reached by the campaign, and to help promote campaign news and updates throughout their networks and membership.

Get the Message
Former basketball star, ESPN men's college basketball analyst and prostate cancer survivor Len Elmore says, "We have an opportunity to use the medium of sports to be able to deliver a message in a way that men understand. We need to start talking about health among and between men. It's important to understand how you can take control. In the end, it comes down to this – our health is on the line."

Did You Know?
A man's individual survival depends on the type of prostate cancer and the stage of the disease. According to the most recent data, for men with disease confined to the prostate gland at the time of diagnosis, the relative five-year survival rate is nearly 100 percent. The relative 10-year survival rate is 91 percent, and the 15-year relative survival rate is 77 percent.

Visit OnTheLine.org for more easy-to-understand information about prostate cancer risk factors, screening, diagnosis, treatment options, side effects, and survivorship, as well as emotional and mental health support from health professionals, survivors and support groups.

printer friendly page ·

"GAME ON!"
authored by:

Patricia Kirby brings several years of journalism, editing, and publishing experience to Radius magazine. She is a published writer and former co-editor of Hoosier Outdoor magazine, with a distribution throughout the mid-west. Patricia is also a form...