AGE EXCELLENTLY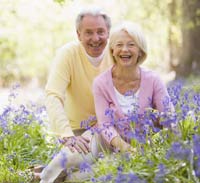 My 81 year-old aunt teaches five line-dancing classes every week, and she travels all over the country.

ďAge is NOT a disease!Ē Gray Panthersí founder, Maggie Kuhn, issued this battle cry for seniors, but doctors often have a skewed view of aging. During medical training, doctors see the seniors who come to the hospital so they expect all older adults to be ill, disabled or demented. It is easy to forget that most seniors are healthy, vibrant people.

Aging represents a loss of reserve. Older adults are at greater risk of developing illness. Seniors may have a more serious response to a lesser stimulus. They often require a longer recovery time than younger adults; but age is not a problem unless illness limits function. My 81 year-old aunt teaches five line-dancing classes every week, and she travels all over the country.



PREVENT DISEASE; PRESERVE HEALTH
Partner with primary care physicians on the road to successful AGING EXCELLENTLY!
DO NOT SMOKE! Itís never too late to stop. Your doctor can help.
Decrease the risk of heart disease by maintaining an appropriate weight, blood pressure, cholesterol level, and diabetes markers. Ask
about aspirin and other anti-platelet agents to avoid blocked blood vessels.
Mammograms, colonoscopy and other screening tests can detect illnesses early enough to control, or delay their impact on function.
Bone densitometry (osteoporosis screening) and vaccination against influenza, pneumonia and herpes zoster (shingles) can decrease mortality, or improve quality of life.
Safer sex practices are not restricted to teenagers!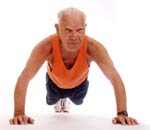 Poor physical conditioning is now believed to cause conditions that were previously attributed to normal aging. Studies on master athletes (people who never stopped training as they aged) show that heart, lung and musculoskeletal function can be preserved in people who commit to lifelong fitness. Other studies show that falls can be prevented and other musculoskeletal ailments improved by resistance training, Yoga, and Tíai Chi (a rhythmic, graceful martial art).

Start an exercise program tailored to your current fitness level and progress at a reasonable pace. Certified personal trainers are valuable partners; cardiac and pulmonary rehabilitation programs are excellent for people who are challenged in those areas. Seated exercise or water programs are great for people who live with musculoskeletal difficulties. Everyone can do something; everyone can improve.

EMBRACE THE ďNEW NORMAL.Ē
Instead of grieving that you have lost the physical prowess of youth, celebrate experience and learn to work smarter, not harder. My 17 year-old son is a six-foot, first-degree black belt in Taekwondo who can kick above his head. I am a 52 year-old second-degree black belt. I cannot kick like that, but I know my son is so focused on kicking that he often fails to protect his belly. When we spar, I can avoid the kick, watch for the opening and score with a punch, proving that age and wisdom trumps youth and stamina. If arthritis has robbed you of the ability to jog, play handball or basketball, you can swim, train with weights, study yoga or Tíai Chi. Do what you can do now. Donít see it as loss; itís the new normal.



FIND YOUR JOY and FOLLOW IT
I gave myself a roller-skating party for my 50th birthday. I also vowed not to do anything I didnít want to do unless it helped me achieve a goal I wanted to reach. Youíve paid your dues; itís time to do something for yourself. Take a class, travel and say ďnoĒ to toxic people. Read When our Grown Kids Disappoint Us: Letting Go of Their Problems, Loving Them Anyway and Getting On With Our Lives by Jane Adams. Age is not a disease, but neither is it optional. You can age well by:
preventing disability
preserving function
embracing the ďnew normalĒ
detoxifying your life and
nurturing your spirit.
DE-STRESS
The ďSandwich GenerationĒ now faces a triple- decker club! Adults support older relatives, children and sometimes, grandchildren while they work and plan for their own retirement. Corporate downsizing, dropping interest rates, and increased costs erode retirement funds. Stress management is crucial:
Find a geriatrician to issue a level of care prescription. This specifies the type of care your senior needs and recommends the necessary resources. My book, TO SURVIVE CAREGIVING helps you give great care without sacrificing your health, finances, or relationships.
Grandparents raising grandchildren can get information and support at www.grandparenting.org
Work with a reputable financial planner to maximize and protect your funds.
Invest in long-term care insurance in your 50ís so you can afford care in the location you choose should you become disabled.
Be careful if you consider a reverse mortgage (lenders buy your home from you while you live in it, giving you funds to use as you see fit; this arrangement isnít for everyone), but donít sit on thousands of dollars of home equity, living a meager existence because you want to leave everything to people who should take care of themselves.
Insist that your adult children behave like adults, taking responsibility for their own upkeep. Donít support them to live your lifestyle; they cannot expect to start out where you ended up.
Advance directives documentóthe medical care you would want even if you could not speak for yourself. The documents decrease stress for your family and insure that you stay in control.
Fear of Alzheimerís disease and other forms of dementia (progressive irresiversible memory loss) is extremely stressful, but depression, anxiety, and fatigue can cause inattention. Itís not that you donít remember; you didnít pay enough attention to learn it in the first place. Most people tell me everything they have forgotten in great detail, but if you remember what you forgot, it probably isnít dementia. If you, or your family has concerns, ask your doctor for an evaluation. Getting enough sleep, meditation, prayer, exercise, other relaxation techniques and supportive psychotherapy can overcome these barriers to healthy brain function. One of the most exciting areas of interest is brain calisthenics: visual, tactile, and verbal exercises that challenge, promote and possibly, preserve brain function.

The result may not always be graceful, but it can be EXCELLENT!

printer friendly page ·

"AGE EXCELLENTLY"
authored by:


Dr. Woodson has over 20 years experience teaching and practicing geriatrics and 10 years as a family caregiver for a parent with dementia. Visit www.woodsonctr.com to order her book, or to schedule a seminar for your group....