Age is not a barrier! Still setting records at 54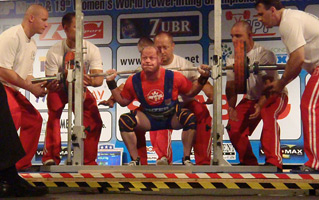 "If you are trying to stay fit or get the energy to make the first move back into fitness, the first thing to remember is no one is born strong, fit, a fitness expert, or is a Guinness World Record holder,"

"Age is not a barrier!" touts a headline from Walter Urban' s web site…a message that is based on experience and lifestyle, having recently broken the Guinness World Record in Power Lifting at age fifty-three.

Motivated by his early high school and college years where he participated in a variety of sports that earned him awards and honors, Urban set out to offer inspiration to people of all ages that fitness is a key to good health and longevity and it can be achieved drug free.

Urban set the new Guinness World Record in 2011for the heaviest weight squat lifted in one hour--drug free—in front of millions of viewers on the LIVE! with Regis and Kelly TV show. The former record was 125,065 pounds, set in 2009 by a 32-year-old man. When Regis asked what motivated Walter to perform this feat, Urban's reply was "to show that you can be healthy, fit, and strong at any age...even into your 90's. You can be strong without the use of performance enhancing drugs, and finally...I like a challenge!"



Urban's seven tips for fitness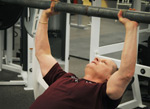 Before starting my seven tips, you should visit your doctor for a checkup to ensure there are no health risks. While age forty is still young by today's standards, medications for blood pressure, cholesterol, and other elements can affect your new found activity. There is no medal for the weekend warrior who brings on more harm than good with physical activity. Better to be safe than sorry.
Once you are good to go, here are my suggestions.
Find something you like – make it your passion.
Change your workout every ten to twelve weeks for variety and maximum results.
Don't set a weight target – set a body target – muscle weighs more than fat, so don't get bogged down with numbers.
You will get sore; it's natural.
The more exercise you do, the easier it will get if you are doing it right.
If you are going to a health club, hire a professional for at least one or two lessons. Avoid going with friends or relatives because often they try to help but
may be overly aggressive, may show you the wrong techniques, or may be intimidating, which can result in being the first reason for your not returning to the gym.
If you are venturing into new activities, I highly recommend you find experts in those areas and ask them for help. Find a professional and develop your plan, start small and build up.
Remember its exercise, you decide when, where, and how long. Get started and don't give up!

But, Urban's story doesn't end there because last year at Niagara Falls, and again on live TV, he set a second Guinness World Weightlifting Record for the "Heaviest Sumo Dead lift in One Minute" lifting 10,535 pounds in sixty seconds…at age fifty-four.

Urban said, "I lifted a 215 pound weightlifting bar forty-nine times over sixty seconds for the 10,535 pounds, which is equivalent to lifting 450 cases of water or a fireman lifting a 165 pound body sixty-one times in one minute."

As in his past feats, Urban said he continues his efforts to break weightlifting world records to bring attention to the fact Age is not a Barrier and adults can continue to remain healthy and get stronger well into their fifties, sixties, and seventies and to stress the fact that steroids are not necessary to reach new heights in athletic performance. "It's about training as a total athlete! The goal is to raise the awareness and success of drug-free performance among young amateur athletes around North America," says Urban.

Urban said he has been powerlifting for fifteen years and is a member of the Canadian National Masters Powerlifting Team. He finished sixth at the World Championships in the Czech Republic in 2010 and placed in the top ten in 2005 and again in 2009. "My effort to break the current world record was to bring attention to the fact the adults can continue to remain healthy and get stronger longer than ever before into and beyond their forties," said Urban.

Urban is a husband and father of three girls twelve, nine, and five, is a US Citizen, and resides in Canada. "It takes a lot of dedication and a really great support team to aim for goals like the record I was trying to reach," said Urban. "I train three or four times a week on my own and with my personal trainer, Mark Giffin, at GoodLife Fitness (www.goodlifefitness.com) in Guelph, Ontario. The facility and the staff create an environment that is inclusive and non-judgmental and that allows individuals of every age and fitness level to feel comfortable, motivated, and supported in reaching their health and fitness goals--whether their goals are to break a World Record, or to gain the stamina to chase their kids around the backyard."

"If you are trying to stay fit or get the energy to make the first move back into fitness, the first thing to remember is no one is born strong, fit, a fitness expert, or is a Guinness World Record holder," says Urban. "Everyone starts at the same base. Some at an early age in organized sports, some through mid-life hobbies and many because they just enjoy the activity and realize it reduces stress, increases energy, and improves general health."

"I realize that taking the first step is intimidating, time consuming, and downright hard. I guess that's why they call it exercise. On the bright side, exercise provides for more energy, improved or good health, improved performance in hobbies, can be a social boost, and over time can become out and out fun!" Walter's Fitness, Conditioning and Motivation articles are currently available in print and online at his website www.walterurban.com.

printer friendly page ·

"Age is not a barrier! Still setting records at 54"
authored by:

Patricia Kirby brings several years of journalism, editing, and publishing experience to Radius magazine. She is a published writer and former co-editor of Hoosier Outdoor magazine, with a distribution throughout the mid-west. Patricia is also a form...