Social networking benefits retirees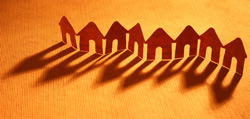 This new, free online platform (www.nextdoor.com) aims to rebuild the way we communicate with our neighbors and bring back that sense of community we lost long ago.

Those today above the age of fifty likely grew up knowing their neighbors by name and which house they lived in. They relied on each other for advice and to look out for one another. Newcomers were quickly greeted with baked goods and introductions to everyone in the neighborhood. Block parties and BBQ's were common occurrences and a place where everyone looked forward to seeing one another.

Sadly those days are long gone. In fact, a Pew Research study shows that nearly 28 percent of Americans can't name their closest neighbors. Maybe it's because people are too busy, which means they may need a better, more effective way to communicate with their neighbors that fits into their busy schedules. Facebook has ushered in a new era of people using social networks to communicate with friends and family, and its international popularity speaks to its success. But until recently, there hasn't been a dedicated social network for one of the most important communities of all: our local neighborhood.

Nextdoor changed all that when they launched this last fall. Nextdoor is the first private social network for neighborhoods. This new, free online platform (www.nextdoor.com) aims to rebuild the way we communicate with our neighbors and bring back that sense of community we lost long ago.

There are social networks specifically designed for our friends and family (Facebook), for our business contacts (LinkedIn), and for those with similar interests (Twitter). But there is no social network specifically designed for the neighborhood, one of the most important communities in each of our lives. There are so many ways our neighbors can help us, but many of us don't know our neighbors, or how to contact them.

How Nextdoor works
Neighbors can use this free service to create private neighborhood websites where members can ask questions, get to know one another, exchange local advice and recommendations, and report crime and suspicious activity.

In order to join a Nextdoor neighborhood website, residents must first verify their address, which ensures only genuine neighbors are included on the website and no one outside of the community has access to the posted information. This creates a trusted environment for neighbor-to-neighbor communication. Once neighbors are connected with each other on a Nextdoor website, the possibilities are endless.

Popular uses include:
Track down a trustworthy babysitter
Get the word out about a break-in
Organize a neighborhood garage sale
Ask for help finding a lost pet
Discuss emergency response plans
The neighborhood is the most important network we have in our lives and a well-connected one can be invaluable, but how do you ask for help with something if you don't know who your neighbors are? Nextdoor can be a great ice breaker and what starts off as online conversations, quickly moves offline.

Nextdoor helps caregivers:
A woman was able to find a wheelchair for the elderly parent she was taking care of.
A woman was able to get her mother's mail taken in for her while she was out of town.
A family was able to introduce themselves over Nextdoor and form new connections, as they moved into a new neighborhood to take care of their aging parent.
There have even been instances where the whole neighborhood has reached out to help care for a member of their community by bringing food, feeding the pets, bringing in the mail, etc.
Transportation to appointments was arranged for an elderly man when his caregiver was out of town.
The easy-to-use, extremely simple site is a great way to notify neighbors about local events in and around the neighborhood, about everything from block parties to poker games, garden clubs to bridge groups. And if grandparents have grandkids coming to visit or are babysitting their grandkids for the week, a neighbor can ask on their neighborhood's Nextdoor site if anyone has a crib or high chair they can borrow, instead of having to go buy a brand new one.

Unlike some social networks, Nextdoor has extremely practical uses in the real world and is proving to be beneficial, especially for retirees. We have had a large number of senior members start or join existing neighborhood websites. And we get feedback daily from our senior community that they love the site despite never having used a social network before - many report to us never having used Facebook or Twitter because it offers no practical use for them.

If you would like to sign up for Nextdoor please visit www.nextdoor.com and enter your address. You will either be placed in an existing neighborhood or if one has not been started in your area you will be prompted to start your site. Your neighborhood may already have an email list or list serve available where you can email everyone and urge them to join. You can also put a link to it on your neighborhood's website, include it a newsletter, or simply share the information in an upcoming meeting. At Nextdoor we also like to help you get your neighborhood started and can send out post cards to your neighbors on your behalf.

Nextdoor's mission is to bring back a sense of community to the neighborhood. The inspiration behind Nextdoor was to give people a social network to connect them to one of the most important communities in their lives - the neighborhood. Nextdoor believes that when neighbors start talking, good things happen.

printer friendly page ·