Former Soap Star now author, singer, speaker, Gloria Loring says "life is a miracle and we are connected to goodness."
The story of how the publishing of the cookbooks came about, along with many other incidents throughout her life led Loring to write her most recent book, Coincidence Is God's Way of Remaining Anonymous.

I have had the privilege of interviewing several celebrities for the cover of our magazine, but none quite as enthusiastic and accomplished as Gloria Loring. Many readers will remember her as the suspenseful character, Liz Chandler on Days of our Lives soap.

Throughout the interview, I found one reoccurring theme, which when faced with a problem, Loring simply sees it as a challenge that she intends to overcome. For example, when her youngest son, Brennan was diagnosed with juvenile diabetes, she educated herself about the disease and over time, created and wrote six books to help, educate, and benefit people with diabetes. What many moms would see as devastation, Loring saw as a way to cope with a problem and help her son and others as well. The story of creating two of those books that raised more than $1 million for research is what led Loring to write, Coincidence Is God's Way of Remaining Anonymous, which you can read about further along in this story. It is quite interesting.

Loring sees family as being an important element in one's life, and cites the example of when her sister, a mother of two teens, was in the final stage of cancer, each member of the family stepped up to perform various tasks. "No one had to orchestrate our activities; we each took a role in whatever needed doing, even if it was my husband just taking time to watch some of her favorite TV shows with her. Someone was with her 24/7, and we each filled a need," says Loring. Not only is family important in our lives, but friends as well, Loring said, as she explained further, how coincidences play roles in our lives. A young mother, hard pressed for money to supply her baby with needed items such as formula and diapers, attended a church service where she coincidentally sat next to a lady who told her she had had a dream that involved a young mother in need. Two days later, six women showed up at the doorstep of the young mom with food, diapers, and formula in hand.

Coincidence? Loring says it is a benevolent source that connects us to what we need. And, she cited instance after instance of people who were in need, but who found help in unexplained ways…job offers for an acquaintance who needed work, money for groceries for a down and out friend, help for a mother suffering from depression after her husband died. "Very often, help is not immediately within our sight. You don't always know that goodness and comfort are close by. That's when you have to reach out and ask. When we, in turn, give help and compassion to those who reach out, we play a role in coincidence."

Your book begins with a coincidence that happened at Days of Our Lives and helped you raise $1 million for diabetes research. Did you ever solve the mystery of how a card titled "Expect a Miracle" showed up in your dressing room?
To this day, it remains one of my life's most amazing occurrences. My son Brenna was diagnosed with juvenile diabetes one year before I was cast to play "Liz Chandler." During my first months on the show, I decided to create a "Days of Our Lives Celebrity Cookbook" to raise money for diabetes research. After a year of preparation, the book was ready to be printed, but I didn't have any money to pay for it. Then a business card that read, "Expect a Miracle" appeared in my dressing room, 24 hours before I met the man, in Houston, who helped underwrite the costs of the book. Several years later, after retelling the "Expect a Miracle" story to an interviewer, he said, "Well, you know that coincidences are God's way of remaining anonymous," the quote by Albert Einstein that started me on this journey. And no, I never found out who left that card in my dressing room, but I do have it framed on my office wall.

Even though you call this a spiritual autobiography, it also seems to be a self-help book.
Good. I want it to be helpful. My personal stories inspired me to research the underlying principles of coincidence. I learned that coincidence can be used for my own good and the good of others, and I share how to do that.

When "Expect a Miracle" happened, I didn't have a framework or belief system within which to appreciate it. I tossed it aside as weird, amazing, and used the word "coincidence" to mean happenstance, mere chance. But as more and more of those events happened, and with Albert Einstein's quote as a starting point, I began to investigate another definition of "coincidence": a coinciding of meaningful events. If coincidental events are meaningful to you, they carry a personal aspect that may give you information or guidance.

There are two kinds of coincidences, ones that reflect an inner issue and ones that offer guidance.

Some coincidences appear as a response to something that's important to us, as kind of feedback. For example, creating the "Days" cookbook was my way of doing something to help cure my son's diabetes and so was a highly emotional issue for me. Not many weeks before I found the first sponsor, I thought I had reached the end of my resources, yet something in me said, "I didn't come this far to fail now. Something has to happen." Something did.

Sometimes a coincidence offers guidance. A voice whispers inside your head, a song comes on the radio, a friend makes a casual remark, any of which feels like exactly the answer you were seeking.

Sometimes a confluence of events gangs up in your life. The week I ended my run as "Liz" on "Days," my divorce became final, my record "Friends and Lovers" hit number one, and my first book was published.... two, endings and two beginnings. I have learned that if a coincidence brings something to my attention, it needs my attention. I then look at whether it is something about me that needs healing or addressing, or if the coincidence is offering guidance.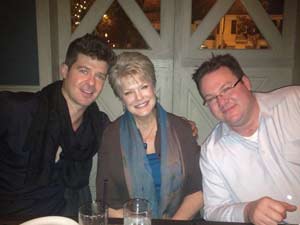 Proud mom, Loring with sons Brennan and Robin at her birthday celebration.
Every chapter begins with a song you wrote, so in a way, this book has its ownsoundtrack. When did you write the songs and where are the songs available?
The songs were written around the time I began writing the book. Because they emerged from the same issues and stories I was writing into the book, they coincided beautifully with the chapters I was planning. I did complete the recording several years ago and released them separately as the CD "Turn the Page," which is available on my website and for download on iTunes.
Does your belief in coincidence mean that you stop trying to direct the action in your own life?
No. Just the opposite: We always have a role to play. We are created in the image of the Supreme Intelligence that gives us life. There are many words for the workings of that intelligence: grace, providence, fate, destiny. We contain a portion of that intelligence, and our words and intentions play an important part in the unfolding of our lives.

My teacher says that our undertakings need two wings: self-effort and grace. With the cookbook, my self-effort moved through four stages, what I list in the book as the "Four I's" - Impulse, Intention, Inventory, and Investment. I had to take action to create the cookbook and bring it to a stage of readiness. Then coincidence stepped in and provided what I needed to take it to the next level. I recently read the phrase "put the universe on notice." When we are inspired, set an intention, take action, and invest our time and energy, it is as if we send a notice to the universe, "Help me here, with this."
How has the appearance of coincidences served to deepen your spirituality?
I know I am not alone, have never truly been alone and never will be alone, no matter what the outward appearances. I have experienced that the love and acceptance I seek lies within me.
Do coincidences always bring positive results?
No, sometimes great challenges arise. From your limited perspective, you can't know why an event happens; only that it does. I have a sign in my office that reads, "It is what it is." Your Mission Impossible-style job ("If you choose to accept this mission...") is to decide how you will meet a challenge and if you can find any lesson that might serve you. Every person and event that enters your life can contribute to your good; can be your teacher, if you'll allow it. When a terrible or painful event happens, we might want to moan, "Oh, no. Why me?" Yet we can go deeper and ask, "Yes, why me? What is this challenge asking of me?"

To quote Christian mystic Pierre Teilhard De Chardin, "Not everything is immediately good... but everything is capable of becoming good."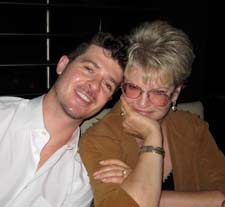 Loring with her son, singer-songwriter Robin Thicke, American R&B singer-songwriter, musician, composer, and actor. Robin's father is Alan Thicke, of the ABC television series "Growing Pains."



What do you hope your readers take way from reading Coincidence Is God's Way of Remaining Anonymous?
That life is a miracle and we are connected to goodness, both within us and around us. Our job, if we choose it, is to be willing to watch and listen for the workings of coincidence that provide evidence of the Connecting Principle most of us call God

Published by HCI Inc., the original publishers of the Chicken Soup for the Soul series, this book is peppered with behind-the-scenes looks at "Days of Our Lives" andstories of raising her R&B sensation son Robin Thicke. It also has its own originalsoundtrack co-written by Loring. Each chapter begins with a song, all of which arefeatured on her CD "Turn the Page."

Aside from authoring, song writing, acting, and other many and varied activities, Loring is a sought-after speaker. She will be touring October 6-9 in upstate New York at Woodstock where she will be speaking about healing past wounds. More information about that event may be found at womenatwoodstock.com. She follows that presentation with another guest appearance in Peoria, Illinois. You can find more information about Loring and read her blogs at glorialoring.com.

printer friendly page ·

"Former Soap Star now author, singer, speaker, Gloria Loring says "life is a miracle and we are connected to goodness.""
authored by:

Patricia Kirby brings several years of journalism, editing, and publishing experience to Radius magazine. She is a published writer and former co-editor of Hoosier Outdoor magazine, with a distribution throughout the mid-west. Patricia is also a form...