A Not-So-Extreme Makeover That Anyone Can Do...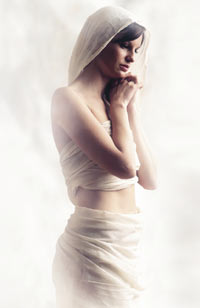 People have always wanted to improve their looks, but recently this has become a national obsession. This obsession is fueled by TV shows like "Extreme Makeover" and "The Swan". Keeping you looking good does not necessarily have to be extreme, but it does take commitment-and it can be achieved by anyone!

The Seven Step Plan
The first step to maintaining your looks is to prevent the damage from happening in the first place. You can't control the effects of time, but you can limit them. Most important is avoiding excess sun exposure. Ultraviolet radiation is one of the most damaging. Even the tanning booth which gives controlled radiation exposure is still exposure. The use of a waterproof UVA and UVB sun block is mandatory for good skin. If you want the tan look, use a sunless tanner.
The next step is to stop smoking. If people realized the aging effects of smoking maybe it wouldn't be popular. It is a proven fact that smoking increases facial wrinkles. Wrinkles around the eyes and mouth are the classic findings.
Next you need to care for your skin. Just like you need vitamins to maintain your health, the skin needs vitamins to keep it in optimal health, as well. Vitamin A, a potent antioxidant has been proven to decrease the signs of aging. The most potent form available by prescription is called Renova. Weaker forms called retinol or retinyl are found in many over the counter skin care products. Unfortunately this can cause redness and dryness of the skin and sunblock is mandatory. Vitamin C, another antioxidant, has also been found to improve facial wrinkles. It is dispensed in concentrations of 10-20% in the serum form. I personally use the 20% concentration daily. Vitamin E has been put in many preparations but there is little scientific data to prove it actually does anything. Green tea and growth factors are interesting products found in the newer preparations.
An important step in daily skin care is exfoliation with a fruit acid, like glycolic acid. The body actually does better in a weak acid medium. Sun damaged skin has a thick layer of rough dead skin on the surface. By removing this layer, smoother, younger looking skin will appear. Washing your face with soap strips away your natural oils and can actually dry your skin. Another plus of using glycolic acid is that it can slowly rejuvenate the skin. It takes a while though and you must build up to higher concentrations. I personally use 20% pads twice a day.
Mechanical exfoliation with microdermabrasion may be necessary to get severe sun damaged skin looking more youthful. Again, chronic use of microdermabrasion also has a rejuvenating effect. This requires at least 4-6 treatments and should be part of your overall skin care program.
As we progress in our stepwise program, well-established wrinkles need more aggressive treatment. The facial muscles you use to express your emotions cause dynamic wrinkles, and it is impossible to completely prevent these wrinkles unless you quit smiling or frowning. However, the creases from over expressiveness can be softened with Botox. Botox is a neurotoxin that temporarily prevents the muscles from working. Tiny amounts of this are given to specific areas of the face to selectively soften the wrinkles. This is where a bit of artistry is necessary to balance form and function. It is my opinion that some muscle function should remain so that the look is natural. The frozen face is not natural. If you do not like the effect of the Botox, the good news is it wears off in a few months. The bad news is if you do like the way it looks you will need to be retreated. The good news again, chronic use of Botox causes unwanted muscles to weaken.
Static wrinkles are those caused by nonmoving structures, and these cannot be corrected with Botox. One way to soften these wrinkles is to fill them.

Collagen has been the gold standard for many years, and it comes in many forms. Whether the collagen is derived animals or humans, these fillers are temporary. Every three months (or sooner) the wrinkles return and need to be refilled.
Restylane is relatively new filler for the US and it appears to be promising. Restylane lasts longer, but has to be periodically repeated and is more expensive than the "old" collagen.
Articoll, new semi permanent filler made up of collagen and little plastic beads, is used to fill in the areas between the lip and the cheek. It lasts for 2-3 years, but can develop hard lumps and should not be injected into the lips.
A natural filler, which has been around for at least a decade, is your own fat. Almost everyone has a small fat deposit some where on their bodies that they would like to have removed. This fat can be transferred to areas of the face to fill thin, wrinkled lips. Combining this with a Botox treatment improves the odds of a permanent result.
If you are leery of injections, there is a whole line of high tech non-ablative lasers, intense pulsed light, light/ heat therapy, and radiofrequency devices that are available to rejuvenate the skin. The stronger lasers require either a cryogen spray or a cooling hand piece to prevent epidermal damage. The heat energy is transmitted to the deeper structures to remodel collagen and improve wrinkles. The effects at best are mild. Photo rejuvenation works on fine blood vessels, lightly pigmented spots, and fine wrinkles, but again, only modest results will be noted. The key to success with any of these procedures is to have realistic expectations. They should not be expected to have the same results as a face-lift.





printer friendly page ·

"A Not-So-Extreme Makeover That Anyone Can Do..."
authored by:


Dr.Brender is a well-established plastic surgeon and award-winning artist. He is board certified by the American Board of Surgery, American Board of Plastic Surgery and has a Certificate of Added Qualification in Surgery of the Hand. He is a Diplomat...