A Dermatologist Speaks Frankly!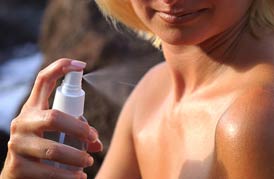 what you need to know about sun-damaged skin...

"What can I do to avoid getting my dad's skin cancer and my mom's wrinkles?" asked Joan, an intelligent woman who was determined to take control of her skin care. "Basically," I said, "the answer is simple. Prevent future damage from exposure to harmful ultraviolet rays and reduce the damage that has been done." Joan laughed and said "The devil is in the details. Tell me how!"

Acute sun damage is obvious… when we get bad sunburn it hurts! Unfortunately, chronic damage is sneaky and may not show up for years. Exposure to even tiny amounts of daily ultraviolet light causes the skin to slowly thin and loose supporting tissue for blood vessels and nerves. As a result, the damaged skin is thinner; more lined, has brown blotches, is easily bruised, and shows blood vessels through the thin skin layers, especially on the sides of the nose and cheeks.

Damaged skin is more prone to skin cancer. Pre-cancers (actinic keratoses or AK's) are dry scaling pink patches that look like dry skin rashes but do not respond to moisturizers. These lesions have abnormal, hybernating cells. A percentage of these lesions will progress to squamous cell carcinoma (SCC), the second most common skin cancer. The most common skin cancer, basal cell carcinoma (BCC), occurs over 80% of the time on sun-exposed skin. Melanoma, a fatal skin cancer, can occur anywhere on the body and is more often related to bad burns in childhood rather than chronic sun damage.

The first step in prevention of these skin problems is to block the damaging rays. Originally, we of the medical community were concerned about UV-B, the tanning and burning rays. We advised patients to use sunscreens with a SPF (Sun Protection Factor) of 15 or higher. We know now, that idea was only half the answer. We now recommend using sunBLOCKS, which block both UV-A and UV-B. The UV-A ray is present year round, as it penetrates through clouds and window glass, and is generated indoors by florescence light bulbs. UV-A rays add to photo aging of the skin, increase skin cancers risk, and aggravate many skin conditions like rosacea and brown blotches. UVA is the predominate ray in indoor tanning booths, so it is always best to avoid them.

When choosing sunblocks be sure to read the small print on the label for the words "zinc oxide" (now micronized to avoid the ashy look) or "titanium dioxide." The newer products combine sunblocks with moisturizers, which can be used under make-up. Sunblocks should be applied to all exposed skin before going outside. If you plan to remain outdoors for a long period, I recommend replying the block every few hours. Make sure you select a water resistant one if you expect to perspire or participate in water sports. Some sun conscious people do not even go to the mailbox or the grocery store without first applying their sunblocks!

The next step is to avoid the rays. Sunblocks can only go so far in protecting the skin. Whenever possible, schedule your activities to avoid the mid-day bright sun. Do your gardening in the early morning, play tennis, or swim in the late afternoon, but plan to cool off inside from 10AM to 2 PM. Also, consider using laundry additives to add extra sun block protection to your existing clothing, or purchase the special sun protective clothing that is lightweight but adds extra protection during sports or other outside activities. Sun-conscious people also remember to wear broad brimmed hats and sunglasses.

"Okay, I understand what I need to do for prevention, but what about these spots?" asked Joan.

I recommend a baseline, total body skin exam with a dermatologist to make certain that abnormal lesions are not overlooked. If pre-cancers are present, they can be treated with either a light freezing with liquid nitrogen, home prescription products, or a new office treatment using a chemical (Levulan) followed by light exposure. Skin cancers need to be surgically removed.

The remaining types of sun-damaged skin can be markedly improved with a few home, skin-care products, and minor office treatments that require little downtime. In addition to the sunblock cream, I ask my patients to consider using a prescription strength retinoid (vitamin A) cream. For patients who desire more intense treatments, we add topical alpha hydroxy and antioxidant products. Light peels and microdermabrasion aid in exfoliation and help the home-skin-care products work better. Brown spots and red blood vessels can be reduced with the newer type lasers or intense pulse light equipment. With a light, camouflage make-up the patient can usually be back to work by the next day.

Just remember, it is never too late to improve your skin. Treat yourself to a healthier complexion. Just let your dermatologist know you need a skin care consultation.

printer friendly page ·

"A Dermatologist Speaks Frankly!"
authored by:


Dr. Rebecca L. Bushong is both a pharmacist and a board-certified dermatologist. After receiving her BS. in Pharmacy and her Pharm D degree, she returned at age 30 to the Medical School of the University of Kentucky. Following medical school she comp...