West Nile Virus, Still a Threat
Though Rare in the U.S. West Nile Poses Threat !!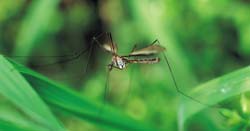 *Barbara Miller was relaxed and enjoying the neighborhood social. A group from their cul-de-sac managed to get together during the summer season at least once per month.

While the youngsters enjoyed typical yard games of tag, and hide-and-seek, the adults would discuss taxes, health, and politics; never planning to solve the world's problems...just hanging out and relaxing. Moreover, other than the summertime annoyance of mosquitoes, the gathering proved to be as insignificant as all the others are.

In a few days however, Barbara began to feel ill with fever, headache, tiredness, a rash, and body aches. Barbara had contracted West Nile virus.

West Nile Virus (WNV) is transmitted to humans by mosquito bites. The virus was unknown to most Americans until it arrived in the U.S. in 1999. Since then WNV has spread across the country and affects several thousand people each year. Although most WNV infections are mild, severe disease involving inflammation of the brain and even death may occur.

Although West Nile Virus had been known in Africa since the 1930s, it gained nationwide attention when it spread to the United States in 1999; the first case occurred in New York City in August of that year. Despite concerns regarding this emerging disease, cases have remained limited. Compared to other infectious diseases, WNV cases remain relatively uncommon in the U.S. Infections were restricted to the east coast in 1999 and 2000. WNV subsequently spread throughout the country and now exists in most parts of the United States. According to the Centers for Disease Control and Prevention (CDC), there were 2,539 cases in 2004 and 3,000 cases in 2005. As of July 11, there have been only 10 human cases during 2006, but the mosquito season is just begining. Most cases occur in the summer and early fall.

Infection with WNV occurs after a mosquito carrying the virus bites a human. A single mosquito bite is unlikely to cause disease; but additional bites increase the risk. The virus can infect humans, birds, horses, squirrels, and domestic animals such as dogs, cats, and rabbits. Most infections occur in birds; dead birds (such as crows) may be an indication that WNV is present within the community. Dead birds should be reported to local health authorities so a proper investigation can be conducted. Illness in dogs and cats due to WNV is rare; most domestic animals that become infected do not become ill.

Although almost all human infections occur after a mosquito bite, there are other routes of acquiring WNV. These may include blood transfusions and organ transplants. Screening blood donors for WNV began in July of 2003. The screening consists of refusing donations among persons with fever and headache during the week before donation and testing donated blood for WNV using nucleic acid-based testing. Patients requiring blood transfusion or organ transplantation should be reassured that transmission is rare, and that the benefits of these medical usually outweigh the risks. Persons donating blood are at no risk of acquiring WNV during the process. Those donating blood found to be positive for WNV are notified by the blood bank; another test is performed to confirm the presence of WNV infection. Those found to carry WNV are unlikely to become ill since most persons with the infection do not develop symptoms.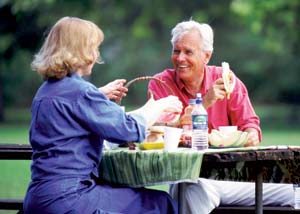 Transmission of WNV from the mother to child during pregnancy and through breastfeeding has been described, but these are currently rare events. Further studies are being performed to better estimate the risk. Breastfeeding should be continued since the health benefits are well described. Persons with WNV are not contagious to family members or co-workers. For instance, kissing or touching someone with the disease does not transmit the infection. Handling an animal with WNV infection has not been shown to cause human disease, but care should be taken when handling an animal, which may have died from the virus.

In up to 80% of infections, no symptoms or illness develops; the infection enters the body and the immune system successfully produces protective antibodies against the virus. Twenty percent of persons infected experience a brief illness with fever, headache, tiredness, rash, and body aches. These symptoms usually last for a few days and then resolve without any specific treatment. Fortunately that was the case for *Barbara Miller. However approximately 1 in every 150 infections results in inflammation of the brain or lining of the brain (encephalitis or meningitis, respectively). Symptoms may include fever, headache, neck stiffness, confusion, twitching of muscles (tremors), seizures, or weakness. Infections of the brain are most common among people over 50 years of age and those with immunocompromising medical conditions such as HIV or cancer. Should read: There is no evidence that WNV causes long-lasting infection, but long term deficits may occur with severe disease.

If you develop symptoms suggestive of WNV, immediately contact your physician. The diagnosis of this infection requires evaluation by a physician including a medical history and examination. A laboratory test for WNV is required to confirm the diagnosis. Usually this involves a blood sample. For persons with neurologic symptoms, a spinal tap may be performed.

Most WNV cases are managed outside of the hospital with rest and drinking plenty of fluids. Those with neurologic disease (meningitis or encephalitis) are hospitalized and treated with intravenous fluids and good nursing care. There is currently no specific antiviral medication to fight WNV. A nationwide study examining the usefulness of interferon (the drug used to treat hepatitis B and C) in treating WNV is underway.

There are several ways to prevent WNV infection. The CDC recommends three strategies to reduce the risk of infection: 1) Avoid mosquito bites 2) Mosquito-proof your home 3) Help your community. Using mosquito repellents and wearing long sleeves/pants/socks when outdoors can protect against acquiring bites that may lead to infection. Use a repellent that contains approximately 20-30% DEET (N,N-diethyl-meta-toluamide) for the best results. DEET has been shown to be safe when used according to the product's guidelines; reactions to repellents including skin rash are described, but are uncommon. Insect repellents should be applied to all areas of exposed skin while outdoors, especially from dusk to dawn since these are the hours mosquitoes are most active. In addition, spraying clothes with repellent is useful, since mosquitoes may attempt to bite through light clothing. DEET should be reapplied as directed on the product's label. Avoid wearing perfumes since they attract mosquitoes. Pregnant women and the elderly should especially take measures to avoid mosquito bites.

Mosquito-proofing your home is another way to prevent WNV infections. Getting rid of standing water including dumping out containers that hold water is important since these serve as mosquito breeding areas. Check trash containers and rain gutters to assure they are not collecting water. These measures can help protect your family as well as the community. Additional steps include assuring that windows and doors have screens to keep mosquitoes out of the home. Some communities have mosquito control programs utilizing pesticides - contact the local health department for strategies being used in your community. There is currently no vaccine to protect humans from WNV however this is actively being worked on by scientists within the U.S.

West Nile Virus has become a well known viral infection in the U.S. since its arrival in 1999. Fortunately cases have been relatively uncommon and usually cause no significant illness. However, cases of severe disease may occur, particularly in the elderly. Everyone should be familiar with the manifestations of this new disease and take measures to prevent infection by avoiding mosquito bites.

* Name is factitious and does not represent actual patient

printer friendly page ·

"West Nile Virus, Still a Threat"
authored by:


Dr. Crum graduated from the University of Chicago Pritzker School of Medicine in 1995 and completed her internship in Internal Medicine at the National Naval Medical Center in Bethesda, Maryland in 1996. She then completed her residency in Internal M...