From The Garden to Inside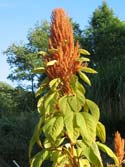 How to Create a Dazzling, Exuberant Cutting Garden

Your entire garden is in fact, a cutting garden. You can take cuttings from shrubs, trees, flowers, and bulbs to bring into your home to use for flower arrangements.

However, what differentiates an authentic cutting garden from others is this garden is created solely for bringing cut flowers into your home for your pleasure.

This past winter when I had time to read and ponder about changes in my garden for spring, the notion of a cutting garden seemed both lovely and extravagant. I became excited when I realized that I had the perfect spot. I could take what I had been calling 'my potager', a mixture of vegetable, annuals from seeds, perennials, roses and any other plant material that I had no other spot for and turn it into a stunning, profuse cutting garden. I quickly became hooked on the idea. The result has been a brilliant display of color and texture both inside and outside that has offered me endless joy.

If you would like to have your own personal cutting garden but find the notion of creating one a bit daunting, read on and I'll show you step by step how to do it.
 

Fran's favorites for a cutting garden Perennials

Euphorbia sp.
Sedum Angelina
Kniphofia sp.
Oenothera 'Lemon Drop'
Gaillardia sp.
Delphinium sp.
Heuchera Dolce 'Key Lime Pie'
Lavandula sp.
Aster sp.
Campanula lactiflora

Annuals (for USDA Zone 6)

Coleus sp.
Osteosporum sp.
Ageratum purple
Callibrachoa Trailing Blue & Rose
Lantana
Salvia sp.
Leonitus leonorus

Bulbs

Gladiolus
Oriental lilies
Dahlias
Tulips in bright colors
Narcissus
Liatris sp.
Crocosmia Lucifer
Crocosmia 'Norwich Canary'

Seeds

Cosmos
Sunflowers
Zinnias
Amaranth
Bells of Ireland
Scabiosa
Cornflowers
Love Lies Bleeding
Dill
Bronze Fennel
Poppies

Climbers

Roses
Cardinal Climber
Sweet peas
Thunbergia sp.
Morning Glories


STEP 1: Selecting, Planning, and Preparing Site
If you do not have a designated area for the cutting garden, your first step is to select one. Take into consideration the amount of sun, wind, and soil that the site receives. The ideal location is one that gets full sun (minimally 6-8 hours a day) and is on a flat piece of land.

The next step is to decide how large you want the garden to be. Use stakes and string or garden hoses to help you get a sense of different shapes and sizes. Make the beds larger than what you think you need. Garden beds are a bit like closet space: you can never have too much. Determine the width of your paths. It is particularly important that you have pathways that will allow a wheelbarrow easy access to the garden.

Prepare the soil and remove the grass, ideally with a rototiller. Add organic matter. I like screed leaf mold and advise adding 12 inches to a newly tilled bed. Any organic matter will do but make sure to add plenty. Use a rototiller to mix leaf mold in with existing soil. Spread out soil with a rake to lay it evenly. Test the soil by rubbing it between your fingers. If it is crumbly, you are ready for the next step.

STEP 2: Selecting and Organizing, Seeds, Flowers, and Bulbs
A good first step in familiarizing yourself with cutting garden plants is by browsing through seed catalogues. You will probably see annuals that you already know like sunflowers, zinnias, marigolds, and nasturtiums. However, you might also discover other specimens that you never knew existed like amaranth, larkspur and heliotrope. Start checking off the ones that appeal to you. For a beginning cutting garden, using seeds is a simple and easy way to go. Just remember to follow instructions on the back of seed packets when planting.

If you want to make your garden a bit more intricately designed, then try some perennials, annual plants, and spring and summer bulbs. Again, you will have to take the time perusing through catalogues, magazines, and books to get to know the plant material you want. Once you have your wish list, sketch out the dimensions of your cutting garden. I like using a scale of ½" to 1 foot. Include a variety of different flower types on your list: those that are tall with spires (delphiniums) dense and rounded type plants (dahlias) and delicate, airy specimens (fennel). Also, take into consideration each plant's bloom period and then plan accordingly. I find it most efficient to make a chart of the months of April through October and then I list my 'wish list' plants on the chart under the months during which they bloom. Do not be surprised or frustrated if it takes a couple of days or more to complete this list to your satisfaction. You will eventually get it edited down to where you want it to be.

STEP 3: Designing and Planting Your Cutting Garden

Plant in larger numbers of one specimen rather than smaller numbers of a wide variety of specimens
Repeat some perennials and smaller bulbs on either side of the pathways to give the garden a sense of repetition.
Distribute early, middle and late blooming plant material throughout the garden to create a sense of balance.
Over plant rather than spacing generously. Place annuals and perennials close together, to give the garden a profuse, rambling look. This type of planting will also help to conserve moisture and keep weeds from taking over.
Use plants like dahlias, delphiniums, eremus and lilies at the end of the paths as 'attention grabbers'.
Planting in straight rows tends to be boring. You can design any type of pattern you want or just plant as you might in a perennial garden with specimens weaving in and around each other.
Most importantly, have fun while creating your cutting garden. Play around with different plants, bulbs, and seeds. View the process as an experiment and chances are that you will be more than pleasantly surprised with the results, especially when you have a bounty of magnificent flowers to cut and enjoy throughout your home for months to come.

printer friendly page ·

"From The Garden to Inside"
authored by:


Fran Sorin, recognized as one of America's leading gardening experts, is changing how people perceive gardening. Her multi-media exposure reflects her philosophy that, similar to exercising and following a wholesome diet, gardening is a necessity for...