Spider Veins…
Are you a spiderwoman/spiderman?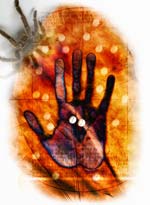 How do you know if you suffer from CVI?

While most people have good circulation of the blood down to their toes, bringing the blood back to the heart is, literally, an uphill battle. These problems of returning the blood from the legs to the heart are the result of a faulty venous circulation, known in the medical vernacular as chronic venous insufficiency (CVI). Affecting about 6 million Americans, CVI is one of the most common reasons for a person to seek medical attention.

Causes
The human circulatory system is a lot like plumbing. The venous system is a low-pressure system with valves present to prevent backward blood flow. When deep vein valves become distorted from years of pressure, they become leaky, pressure increases, and veins distend. In response to increased pressures, blood is shunted from the deep to the superficial venous system, which in turn becomes dilated and leads to observable veins.

Symptoms and consequences of venous insufficiency range from minor irritants to major life altering problems. CVI is most commonly recognized for the varicose veins or spider veins it causes, however, the spectrum of symptoms and signs with which it may present is much broader. Chronic leg heaviness and fatigue are common and early signs of disease. Leg swelling, bruising, inflammation, infection and even permanent scarring and discoloration and ulcers can all occur in CVI. Fortunately, these and worse complications are rare.

Are you a spiderwoman/spiderman? How do you know if you suffer from CVI? Typical complaints include aching, heaviness, cramps, swelling, leg fatigue, itching, and burning, which often appear before spider veins do. These symptoms worsen after a days' activity. Specific skin signs include varicose veins (dilated, tortuous blue veins, diameter >4mm), spider veins (fine red venous branching patches less than 1mm diameter), edema (swelling from increased free fluid in the legs), inflammations, rashes, discoloration, bruising, and ulceration. While we cannot predict exactly who will get CVI or its complications, several risk factors for the development and progression of venous insufficiency have been defined. These include female sex, older ages, and history of multiple pregnancies, leg edema, pain and tenderness on standing, occupations involving prolonged standing or sitting, prior deep vein thrombosis, racial background, genetic predisposition, geographic location, obesity, low fiber content /highly refined foods diet, toilet posture, tight undergarments, air travel, oral contraceptive use and a positive family history.


Treatments
There are various treatment modalities for the management of venous insufficiency. While elevating the legs frequently throughout the day can alleviate pressure and symptoms, this is impractical for most people. Walking and other exercises can help by activating the muscle pump and stimulating venous return.

Sclerotherapy, is the injection of a drug or concentrated salt water into the superficial blood vessels, causing closure of the diseased vein. It is useful for treatment of superficial veins, but is not very effective in treating the underlying cause or preventing progression of the condition. Endovenous ablation therapy involves a small skin incision under local anesthesia and the use of a laser or radio wave to "cauterize" off the vein. Surgical stripping and ligation of veins (cutting out or tying off of varicose veins) is a more invasive approach used for more severe cases. It requires general anesthesia and surgical skin incisions in order to remove veins.

Compression therapy has been used as a therapeutic modality for centuries, with prescription grade graduated compression stockings (GCS) being the most practical and least invasive approach available for most individuals with mild disease. GCS are the recognized gold standard for treatment and prevention of recurrence of venous ulcers. GCS partially restore valvular competence and controls venous circulatory reflux, prevents or improve leg edema, decrease inflammation, discoloration, improve calf muscle pump function, and increase oxygen delivery to the skin.

Who should use compression stockings? GCS are useful for the prevention of CVI; the therapy is almost risk free and potentially offers many benefits. Certainly, individuals at increased risk of developing CVI (with two or more risk factors as listed above) should consider GCS therapy. Once you have spider veins apparent on the skin, this is already late in the game. Asymptomatic abnormal venous function is increasingly being recognized, with studies suggesting almost 40% of the population experiences "asymptomatic" CVI. So really, the better question is who should not use GCS therapy.

GCS are beneficial to the circulation of a pregnant mother and her fetus. Pregnancy is one of the periods of greatest risk for the development of CVI and therefore, the prophylactic use of compression stockings during pregnancy is advisable for most pregnant women. GCS in pregnancy have been shown to decrease leg swelling, pain, skin discoloration, activity tolerance, and sleeping problems. Patients indicated improved quality of life and less subjective depressed mood, increased physical activity and better sleep, with the use of GCS.

The recent deaths of seemingly healthy young individuals on "long haul" airline flights have led to the observation that individuals are at increased risk of deep vein thromboses (blood clots) in the legs with air travel. Such clots, known as "economy class syndrome," (it is also observed in first class) are relatively common, but fortunately rarely life threatening. Interestingly, young endurance trained athletes are at increased risk of developing these clots, since their resting heart rate is much slower, with slowed flow allowing for clots to form. Compression therapy reduces the incidence of blood clots in long haul travelers.

Appropriate use and problems encountered with GCS
Stockings are classified according to the amount of pressure that they apply. Compression below 20mmHg (available without a prescription) is appropriate as part of a blood clot prevention regiment, such as during air travel. Compression of 20-30 mmHg (requiring a prescription) is for mild-moderate edema, mild CVI, and during pregnancy. Higher compression is indicated for severe disease.

Some people decline to wear compression therapy with regularity. Reasons include expense, non-coverage by insurance, hassle factor in obtaining or caring for stockings, difficulty in getting stockings on and off, pain, discomfort and poor fit, especially with higher compression. Some simply do not like the way they look. The prices vary depending on length (knee, thigh or hip) and strength of compression, with prices ranging from $20 for the over-the counter knee-highs to $200 for custom fit and maternity hose. Insurance at times does cover this expense, as do Veteran's Administration pharmacies, but this may require supporting documentation from the prescribing physician. You can purchase stockings from a surgical supply store or order via the Internet. Measurements must be taken in order to have a proper fit. Ninety percent of patients can be fitted with some form of ready-made stockings. In general, all brands of GCS seem to function equally well. Pain or discomfort is most likely related to poor stocking fit. You may have to try several brands to find the one that fits best.

Getting stockings on and off can be a challenge, especially for the elderly, obese, debilitated, or pregnant. Assistance of another person and use of the lowest therapeutic compression necessary can make this easier. The use of a butler stocking aid can also ease stocking application. Compression therapy should be worn while out of bed during waking hours and can be removed at bedtime. Delay in application of stockings later in the day may result greater difficulty in getting stockings on and less therapeutic advantage as some of the edema fluid has already pooled. For those with cosmetic concerns about the stockings, the lower compression hose can still prevent edema, while being less opaque and more aesthetic. In addition, hose that are more opaque can be worn without notice under trousers. Stockings should be washed by hand using a mild detergent and allowed to hang dry to increase longevity and avoid ruining the elastic. Stockings should not be worn bare-foot to avoid tears. A final obstacle to the use of GCS therapy is the lack of emphasis by the medical community on the benefits of use of this therapeutic modality. For example, GCS therapy should be considered at the first office visit of pregnant women to her obstetrician, but in fact, this option is rarely discussed unless established disease is evident. GCS therapy is useful in preventing disease, not only treating it. When is GCS therapy inappropriate? The only major contraindication to GCS therapy use is the presence of arterial insufficiency. Their physician should check all patients for good arterial pulses before starting compression therapy, as compression can result in decreased blood flow to the feet. In addition, poor stocking fit may actually induce a blood clot or traumatize skin.

In conclusion, there are multiple therapeutic options available to the many spidermen and spiderwomen out there, unfortunately only a minority present to their doctor for treatment. Modern physician medical education has not emphasized the use of this modality for the prevention and management of CVI. Compression therapy is a therapeutic approach that has withstood the test of time. It offers both subjective and objective improvement in symptoms of CVI. With many different kinds of medical elastic compression on the market, an individual has many options to choose. If you think you are a candidate for GCS therapy, see your physician for an evaluation to determine if it is appropriate for you.

printer friendly page ·

"Spider Veins…
Are you a spiderwoman/spiderman?"
authored by:


Eve Lowenstein, MD, PhD, is Assistant Professor in the Department of Dermatology for SUNY Health Science Center at Brooklyn, where she supervises residents in training. Dr. Lowenstein is also an associate of South Nassau Dermatology PC in Oceanside a...