Jetlag...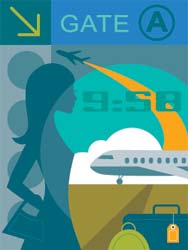 Some practical suggestions

Travel from Los Angeles to New York, or worse yet, London to Hawaii, and you may feel quite tired or out of sorts. In extreme cases, you might be disoriented for several days. These are clinical manifestations of an imbalance in the body's circadian rhythm, otherwise known as Jet Lag. This is caused by the body's innate biological clock not keeping up with high-speed jet travel over several time zones. It also has to do with the perceived adaptation to ambient light or lack thereof.

Various factors are involved in the constellation of symptoms of Jet Lag:
General fatigue, daytime sleepiness
Disorientation, confusion, and irritability
Insomnia, disturbed nighttime sleep
Dehydration
Performance decrements
Gastrointestinal disturbances
Menstrual irregularity and pain
Retrograde amnesia
Getting appropriate rest before the travel can of course, reduce general fatigue.

Dehydration is a common problem in travelers and exacerbates the jet lag. The ambient environment in a plane is extremely dry, and often travelers avoid taking sufficient water. Caffeine and alcohol are not only dehydrating in themselves, but alcohol can lead to further adverse side effects. Retrograde amnesia, where the traveler forgets where he is and where he has been, occurs if you use sleeping pills and/or alcohol when traveling over several time zones.

A number of studies have concluded that light has an effect on melatonin levels in the body. With the application of light at certain wavelengths, captured on the retina, one can modify the melatonin & the circadian rhythm of the individual. Various very effective light devices have been developed in the last 20 years. I have conducted research studies using these in the prevention of jet lag.

With a few practical changes in your habits, you can modify or cope with jet lag.
Do not drink coffee or other stimulants. If you must, drink them in the early AM on a westbound flight or in the late evening on an east bound flight.
Drink no alcohol before, or on the flight.
Do not smoke and take no sleep aids (pills).
Try to eat a high carbohydrate dinner the night before travel. On the trip, eat salads, fruit, and light food. Eat protein upon arrival.
Keep as active as possible when you arrive.
Utilize seated exercises while on the plane.
Drink enough water to make you get up and go to the bathroom, at least every hour.
Generally, avoid exposure to morning light, and maximize afternoon and early evening light the day of travel and for several days after arrival. The use of dark glasses and light visors can achieve that.
Try to schedule important meetings 24 hrs after arrival.
Adjust your watch to the time zone of the destination once you board the flight.
With these changes, you will not make some grave error at a business meeting, or lose valuable time for your vacation. Safe travels.

printer friendly page ·

"Jetlag..."
authored by:


Craig Karpilow MD FACOEM is a Board Certified Family Practitioner, Fellow of the American College of Occupational & Environmental Medicine and the Royal Society of Tropical Medicine & Hygiene. He has published numerous articles in professional journa...