Move It or Lose It
by Karen Peterson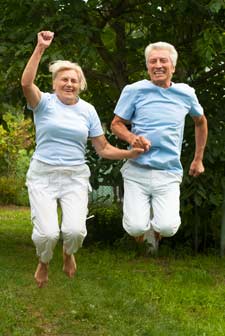 Five moves to put seniors back in the game.

For Americans sixty-five and older, falling down can be the worst thing to happen to them, according to statistics from the National Council on Aging:
One in three seniors experiences a significant fall each year
Every eighteen seconds, a senior is admitted into an emergency room after losing balance and hitting the ground
Every thirty-five minutes, an elderly person dies from a fall -- the leading cause of death for seniors
read in detail
Stretching your way to less pain
by Emily Francis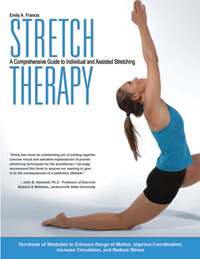 Whether you want to increase your fitness levels or start a regular exercise routine, stretching will help. Stretching pre and post exercise will produce more results and fewer aches and pains.

Getting started
Whenever you stretch, remember to keep the tension out of the body, retaining proper alignment so that each muscle can work with the others for the benefit of the whole.
read in detail




Must-do exercises to maintain balance, strength, and posture as we age




by Andrea Metcalf


.
read in detail




You can have balance and mobility at any age
by Scott Cole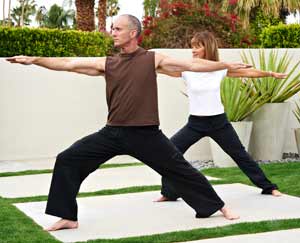 We often associate aging with lack of movement, debilitation, and planned body obsolescence. Don't buy into it. In my twenty-five years of working with aging populations, I know that progress can be made at any age, and the mind working WITH the body has EVERYTHING to do with it.

I always lovingly "threaten" my classes and clients that I am going to wear a t-shirt that says: "BREATHE and BEND YOUR KNEES." It's true. Lack of breathing blocks your "Chi" (energy) from moving through your body.
read in detail




Get your sexy back. Use these V-shape back moves
by Kirk and Nancy Lawrence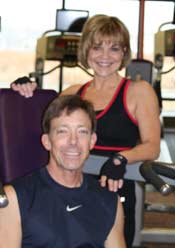 Warmer weather brings sleeveless shirts, halter tops, and bathing suit season. These exercises are great moves to shape your back into an incredible V-shape.

Here is an easy-to-follow series of back exercises that will help you to get the most out of your workout. These moves work for strength, form, and function. This entire back series takes less than fifteen minutes, and you will feel terrific and look great!
read in detail
Is BMI the official yardstick for all body types?
by C. Robert Meloni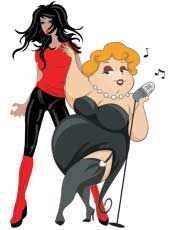 Scientists began correlating body fat with surface area and height, and came up with a statistical statement that could be used with population group studies: the Body Mass Index (BMI).

For many years, physicians have looked for easy ways to measure fatness, thinness, and normality and to follow them as they change, under either experimental or disease states. Early on, the methodology was to weigh the subject in air and then completely submerged in water. After that, some arithmetic produced the amount of fat in a person's body. The problems with that were the very expensive equipment involved, hours of time required to make measurements then calculations, inability to use the method on sick patients, and inconvenience.
read in detail




Proper fitness techniques can prevent injuries
by Kirk and Nancy Lawrence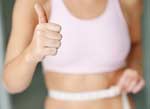 Many fitness advocates have heard about the successful book titled Eat This Not That by David Zinczenko. The book offers alternatives to eating choices. We are offering Radius readers our version of "do this, not that" by demonstrating some popular exercises and giving a "Thumbs Up…Thumbs Down" approach.
read in detail
Take a Hike
by Kirk and Nancy Lawrence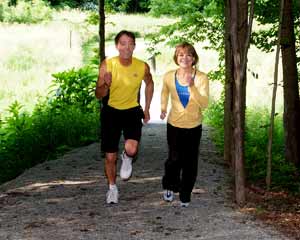 Walk, Hike, or Jog (Cardio)
Start out with a brisk walk or jog… then add short intervals of exercise along the way. The fun part is you select whether you want an easy, relaxing workout or lots of vigorous conditioning. Walk to warm up and cool down on your wellness trail, and add these hi-intensity fat burners and muscle-blaster moves along the way. Here are some easy examples:
read in detail
Partner Up
by Kirk and Nancy Lawrence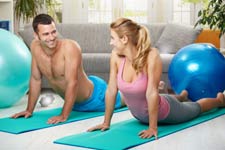 Kirk and Nancy Lawrence are the owners of Anytime Fitness in Westfield, IN. Now in their fifties, Kirk and Nancy have enjoyed careers in training men, women, and children in fitness instruction. They are the authors of Raisin' Youth Fitness, a fitness-related P.E. curriculum that was tested and distributed to schools around the country and was personally endorsed by Arnold Schwarzenegger, Chairman of the President's Council on Physical Fitness and Sports. You can find Kirk and Nancy at www.radthemag.com and http://www.anytimefitness.com/ or email them at WestfieldIN@anytimefitness.com.
read in detail
What's Happening With My Joints?
A 7-step plan for a healthy body
by Mitchel C. Mahler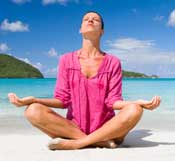 Because of the friction, inflammation, and potentially some of the medications, the joints wear out more quickly than the body is able to restore them.

Everybody loves to move free of pain. Yet as the years add up, something begins to happen which can change the way we move: it's called joint pain! It doesn't have to be that way if you take care of your body. I have a friend who is eighty-eight years old. He plays golf four times a week and just last week made a hole in one! He even walks the golf course. He laughs because no young people he plays against can come close to his score.

So, what happens to cause joint pain and the body's slowdown? Let's look at the gap between the brain's imagined and the body's actual performance that increases as we age.
read in detail




Boosting your immunity through exercise
by Roy Stevenson
Exercise has some amazing benefits to the body in terms of resistance to infection and certain cancers, and may even increase our life span. Yet in many cases according to the research, fitness buffs may actually be suppressing their immune system by working out too strenuously.

What do we really know about the health benefits of exercise? Can it really improve our health? Does being fit mean your immune system is more resistant to colds and flu infections? Is it safe to work out with a cold? And if all this is true, how much and what kind of exercise does it require to receive these benefits?
read in detail




Posture Fixers from Erika Bloom
by Erica Bloom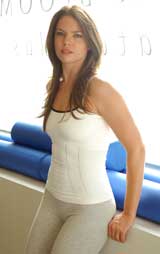 Improving posture makes one look leaner, more toned, confident and even younger.

We often associate good posture with memories of being told to "sit up straight." Now, Erika Bloom of Erika Bloom Pilates Plus teaches us that improving posture makes one look leaner, more toned, confident and even younger. Erika Bloom's detailed knowledge of body mechanics and the mind-body connection has turned posture improvement into an art. Posture affects how we look as much as our weight, the color of our hair, or the clothes we wear. Improved posture also positively affects how our body feels and functions internally and externally in countless ways. It decreases aches and pains, improves digestion, and increases energy.
read in detail




Get on the ball to tighten those abs!
by Traci Toney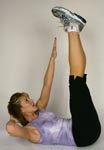 A strong body core can make a huge difference in our lives. By strengthening our abdominal muscles we feel less fatigued, our posture improves, and we can perform common day-to-day activities with much less effort.
read in detail
Strong abs could mean less low-back pain
by Traci Toney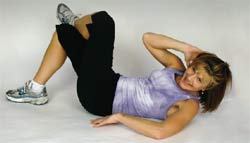 It is important to have strong abdominals for most all motions, including common day-to-day activities. In addition, most low-back pain is attributed to having weak muscles in the stomach area. Keep in mind that abdominal exercises won't reduce fat over the abs or create the coveted 'six-pack'—that comes from inheriting good genes and low body fat—however, you should strengthen the abs along with the rest of your body to build muscle and raise metabolism..
read in detail
Get ready to bare arms ... this Summer
by Traci Toney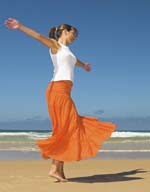 Short-sleeve season is here! Are your arms ready to bare?

With a little effort and some excellent arm exercises, your arms can be trimmer, stronger, and more toned in no time. Shapely, sculpted arms are possible—at any age. These four firming moves work the chest, shoulders, and arms from every angle to tighten and tone the droopiness that can start when you lose lean tissue in your 40s.
read in detail
Walking, Your Best Medicine
by E. Franklin Livingstone, MD, MRM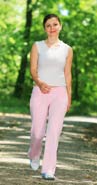 Use your creativity to develop a consistent and enjoyable daily walking program. You will benefit physically, mentally and emotionally.

We know that exercise is a very important aspect of health and well being, and it may be the fourth of five most important ways to sustain our bodies - oxygen, water, and nutrients being the first three and sleep being fifth. Our bodies were designed to move, and that movement has great implications in terms of our overall health. Exercise increases blood flow to every area of the body, and how we get exercise - walking or jogging, water activities, weight training or a myriad of other possibilities is less important than accomplishing the goal.
read in detail




Rope Jumping...one of the best all-around workouts
by E. Franklin Livingstone, MD, MRM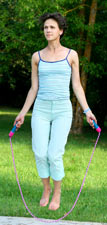 Many exercise enthusiasts believe that rope jumping is one of the best all-around workouts because it strengthens muscles and bones, improves coordination, timing, and rhythm, improves heart strength, promotes fat loss, and improves overall fitness.

Exercise and movement are what our musculoskeletal systems were designed for. Almost all exercise, if it is not injurious is good for us. It does not need to be strenuous to accrue significant benefits. For example, 20 to 30 minutes of brisk walking, or 10 to 15 minutes of jogging are shown to have significant benefits to our health.
read in detail




A Pain in the Neck
by Elaine Petrone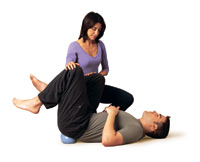 Most of these problems become chronic because we never look at how we treat our bodies on a daily basis.

There are many reasons why we suffer with neck stiffness, low backache, and shoulder problems. An injury that lingers, stress, anxiety, alignment issues, or all of the above can cause the pain. Problems arise when we spend too much time trying to figure out what causes these everyday ailments rather than spending that time doing something about them.
read in detail




Get more from your EXERCISE BALL!
by Francine Milford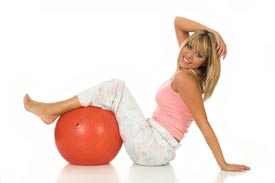 Using the ball can help improve flexibility, develop muscle tone and stretch the back and abdominal muscles.

You have seen them in gyms, in therapy sessions, and even in daycare centers. They come in a variety of colors and sizes, and they are bigger than a beach ball and a lot firmer too. They are called exercise balls.


read in detail




Stretching the Basic Pilates Principles
by Francine Milford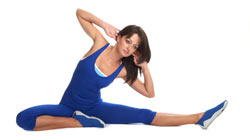 Something of a cross between yoga and calisthenics, Pilates has found a time slot in many fitness centers worldwide.

Pilates, (pronounced Puh-lah-teez), was created by German born Joseph Hubertus Pilates in the 1900s. While he was in an internment camp in England, Pilates developed a series of movements to keep him healthy and strong. After World War II, Pilates immigrated to the United States and opened his first fitness studio in New York in 1926. His studio attracted a wide range of sports enthusiasts and dancers.<
read in detail




Letting Go
by Michael Sena
We all have stress in our lives – and it is here stay! But "managing" stress is the key to good health, balance and serenity.

I must admit that I need to read this article and heed my own advice as much as I am asking you to! Managing stress is such an important and effective tool for keeping our bodies healthy and strong but most importantly, for preventing illness from creeping into our systems. Although I am in the fitness business and try to include in my life, as many healthy remedies as possible such as strength training, cardiovascular exercise, stretching and of course – sound nutrition, I am not "stress free".
read in detail




A 15-Minute Tone-up
by Michael Sena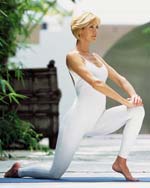 You do not have to work out everyday for hours, you only need to be consistent even with just 15 minutes a day

You probably are saying "Oh no, not again! Not another fitness gimmick on how to lose 40 pounds and shape up in just 15 minutes a day!" Well, I cannot blame you with so many confusing messages on health and fitness these days. One expert tells you to exercise using several reps, while another says you need only one set per body part. Then there are the magical diets that "promise" and "guarantee" weight loss in just days. Even I get confused! However, the "truth" is… some fitness is better than none at all. Likewise, opting for healthy food choices as often as possible is better than eating poorly all the time.
read in detail




Be Healthy! Be Outdoors!
by Michael Sena
Fresh air, warm sunshine, and a cool breeze make the perfect combination to cause us to feel great and want to be outside...
the options for being active in the outdoors are endless !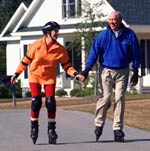 When I ask my clients whether they prefer to exercise indoors or outdoors, most of them say outdoors. Most all of us enjoy the outdoors regardless if it is for work, play, or even exercise. Fresh air, warm sunshine, and a cool breeze make the perfect combination to cause us to feel great and want to be outside.
read in detail




The Best Treatment For Preventing Heart Disease is Free!
by Dr. Johnson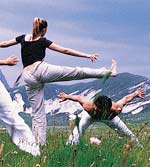 There is a treatment available that can reduce the risk of heart disease more than any diet, drug or surgery. This same treatment promotes weight loss, reduces stress, improves mental function, can prevent diabetes and osteoporosis, has very few side effects and is free. What is this miracle treatment? Physical activity.

Regular activity might be the single most important therapy to reduce the risk of heart disease-the number one health problem in this country. Simply walking for thirty minutes, three times a week can reduce the risk of a heart attack by up to fifty percent. Put another way, the risk of a sedentary lifestyle is equal to the risk of smoking over a pack of cigarettes a day...
read in detail




The Heart of The Matter...




by Michael Sena


I have been involved, interested, and passionate about health and fitness for 25 years. During this time I have seen fitness equipment inventions come and go, diet books crowding the bookshelves, and every other week a new infomercial promising weight loss just by swallowing a pill!

However, I can assure you that without a strong, healthy heart, you and your family members will not reach your fitness goals, or achieve ...
read in detail