Grow a nutritious garden in a pot
by Melinda Myer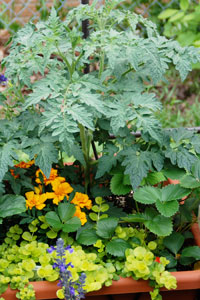 Don't let a lack of time or space get in the way of gardening your way to a healthy lifestyle. Plant a container of nutritious vegetables and herbs. Include a few planters on the front porch, back patio, or right outside the kitchen door.

All that's needed is some potting mix, fertilizer, plants and a container with drainage holes. A fifteen to twenty-four inch diameter pot or twenty-four to thirty-six inch long window box is a good starting size.
read in detail




Extend your garden enjoyment
by Melinda Myer
Strategies for growing edibles later into the season

Don't let fall or potentially frosty temperatures stop you from enjoying garden-fresh produce. Extend the nutritional value and homegrown flavor into your fall and early winter meals with the help of short season crops and season extending strategies.

Lettuce, spinach, radishes, turnips, and beets are quick to mature from seed to harvest. Plus, the cooler temperatures enhance their flavor. Simply count the number of frost-free days left in your growing season and compare it with the number of days from planting to harvest listed on the seed packet.
read in detail




Five Easy Steps to a Fabulous Garden
by Melinda Myer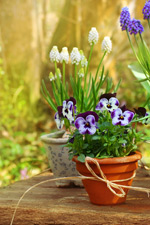 Invest a bit of time and effort into creating the best garden yet. Here are five easy steps to get your garden off to a great start and keep it looking good for years to come.

Start with a plan – It's just like making a grocery list before you go shopping. No gardener, like a hungry shopper, can resist that bargain or special treat and for the gardener that is usually a cool new or unusual plant variety. Purchasing plants with a planting space and purpose in mind can save money and reduce long-term maintenance needs.
read in detail




Give summer stressed plants a helping hand this fall
by Melinda Myer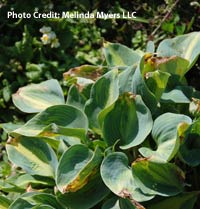 When you team neglect with summer heat and drought that can lead to wilting, brown leaves, and poor growth—add insects and diseases that can further weaken and damage plants—gardens can really suffer.

Don't let summer stressors ruin your landscape's good looks. Instead give your plants' natural defenses a boost and keep vegetable gardens producing and flowers blooming.

Busy summer schedules can lead to plant neglect and less-than-picture-perfect gardens. When you team neglect with summer heat and drought that can lead to wilting, brown leaves, and poor growth—add insects and diseases that can further weaken and damage plants—gardens can really suffer.

An exciting new organic tool for gardeners is now available to help.
read in detail




Consider the top five fruits when planning next year's garden
by Iva Young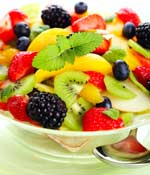 Winter is a good time to plan your seasonal garden, and adding some fruits to the bounty is a good idea. However, too much of the wrong fruit can add fat to your diet. If you are fortunate enough to reside in a climate that supports fruit trees, or have the space, an orange tree would be a good fruit to add.

An apple a day just doesn't cut it anymore and too many apples could make you fat.

That's the advice of Iva Young, a nutritional expert who warns that the wrong kinds of fruits can actually do more harm than good.
read in detail




Its leaf raking time…tips to save your back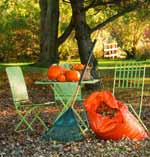 Mow and mulch. If leaves aren't too deep, mow with a mulching lawn mower and leave them on the grass.
Use a leaf blower. It will work very well on smaller lawns. For larger lawns, you might want to use a leaf blower mainly on flowerbeds and small spaces.
Rake your leaves. There are varieties of lightweight ergonomic rakes available, some with handles that allow you to rake with a straight back. Some allow you to rake, and then pick up leaves.
To bag leaves, rake the stack onto an old sheet or a tarp, then dump the stack into a leaf bag.
read in detail
National Public Lands Day brings people together


Up and at 'em! Saturday, September 25 is the ideal day to grab your hiking boots, suntan lotion, and bottled water. Then head out to improve America's public lands. This 17th annual National Public Lands Day will bring together thousands of volunteers who will toil building bridges and trails, improving wildlife habitat, eliminating invasive species, picking up trash, and planting trees.
read in detail




Gardening?


Start small to save your knees and your back

If you've decided to quit the golf links, and tennis is beginning to be too strenuous, you might just be planting your first garden this year.

William Alexander, author of The $64 Tomato, has some advice for you: Start small, stay small, and grow only what you can't buy cheaply in season at the supermarket. In spite of many easy-gardening devices available at home improvement stores, it takes more than tools to maintain a garden. It can be backbreaking work, especially if your back is already tender.
read in detail




Preparing a Strawberry Patch
Strawberry plants can adapt to a wide range of soil types but perform best on well-drained loamy soil.

Given a proper start, your home strawberry patch can bring many years of rewards. The most important considerations for getting off on the right foot include site selection, soil preparation, and vigorous, disease-free plants.

Choosing which strawberries to grow requires a bit of homework. Most strawberries flower when days are short in spring, producing their bounty of ripe, juicy strawberries in June; such plants are known as June-bearers. Strawberry plants can be selected for early, mid- or late-season production, depending on the cultivar.
read in detail




Go ahead...pucker up
Being kissed under the mistletoe has been a Christmas tradition for more than a thousand years. But mistletoe is not only associated with a gentle kiss, it has a lore all its own.

To the ancient Scandinavians, mistletoe symbolized peace. Enemies meeting under the mistletoe declared a truce until the following day. On a more domestic note, disgruntled spouses kissed and made up under the greenery.

The Druids believed mistletoe possessed magical powers. Their priests cut the plant with golden sickles and gathered the trimmings on white cloth so the plant would never touch the earth and lose its enchantment.
read in detail




An age-old vegetable packed with vitamins, useful for good health and decorating
by Dawn Pettinelli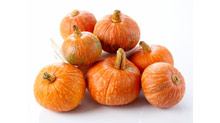 Not many plants can boast about their culinary adaptiveness to the extent that pumpkins can.

Can you name a nearly ten thousand year old native American plant that can reach over 1000 pounds, is packed with nutrition, is the feature for numerous autumn festivals and celebrations, was thought to remove freckles, and is even found in a fairy tale? That would be the pumpkin, of course! From Cinderella's coach to the 1,689-pound behemoth that set the world's record in 2007, pumpkins have been part of literature and history and folklore and dinner for quite some time.
read in detail




Add Annuals for color and design
by Dawn Pettinelli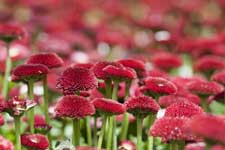 The majority of annuals are easy to grow and relatively inexpensive. Many, like marigolds, zinnias and cosmos, can be directly seeded into the garden providing you with a lot of color at a minimal cost.

Searching for a way to brighten your summer landscape? Then be sure to include plenty of annuals for a season-long display of color. Few plant types offer such an incredible diversity of color, shapes, growth habits and sizes, enabling them to fulfill a variety of roles on the home grounds.
read in detail




Beautiful but toxic
Let me dismiss the rumor concerning poinsettias. Poinsettias are not poisonous!

As we decorate our homes for the holidays with cheery plants, evergreen boughs and berries, it is important to know which plants and materials can be toxic to young children and pets. Many plants can pose serious threats to the curious two-year-old or the inquisitive dog, cat, or bird.
read in detail




Fall... for Gardening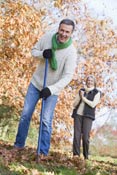 If you have time for only one fall gardening activity, cleanup is perhaps the most important because it will greatly reduce next year's insect and disease problems.

Cool, crisp autumn days are perfect for apple picking, corn mazes, homemade breads, and ….gardening. That's right! Fall is a great time to clean up the garden and ready beds for next spring's whirlwind of activities. Not only will tasks done now give you a head start come spring, but many sanitation and soil preparation activities can decrease or even eliminate certain insect and disease problems.

A good many vegetable and flower pests spend the winter in plant debris or in the soil. Insects may "overwinter" as adults, eggs, pupae, or larvae depending on the species.
read in detail




Safe food begins at ground level
by Diane Wright Hirsch, MPH, RD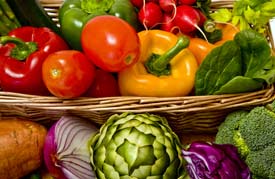 Did you know that in the last thirteen years there have been more cases of food-borne illness attributed to produce—both domestic and imported—than for seafood, poultry, beef or eggs?

It is true that the official list of 'Potentially Hazardous Foods" identified by food safety experts includes foods that are low in acid, high in water content, and a source of protein and/or starch. Poultry, meat, fish, eggs, milk, and products made from these ingredients are on this list as well as cooked cereals (rice, oatmeal, and macaroni), cooked potatoes or starchy vegetables, and soy products such as tofu. The only "fresh" produce that appears on the list is fresh melon—one of only a few "low acid" fruits.
read in detail




The Zen of Indoor Gradening
by Fran Sorin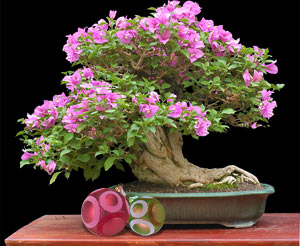 Recent scientific research is now showing that any connection with nature provides positive health benefits. Even the nurturing and maintaining of a single plant can qualify as a form of gardening by today's standards.

Are you one of those folks who finds the thought of gardening indoors daunting? Well, it needn't be! In recent years, the rules of gardening have shifted dramatically: indoor gardening is a hot trend with simple ideas that will allow you to enjoy the presence of plants in your apartment or in your home.
read in detail




INVIGORATE YOUR GARDEN AND YOURSELF, a 4-step program
by Fran Sorin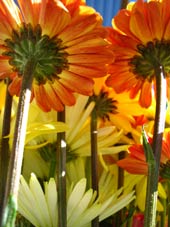 By mid-summer, most gardens are looking a bit run down and could benefit from an infusion of some exuberant color and eye-catching textures and shapes.

Step One
First, select drought tolerant perennials that offer a long bloom period (from mid-summer straight through the fall) and that can easily be planted during the summer months. Before planting, decide which areas in your garden look bland and listless. Select large numbers of one specimen and make sure to plant in a sweeping motion (not in straight rows). Some of my favorite drought resistant summer/fall perennials that offer a dash of color for any summer garden are:
read in detail




Creating a delightful Perennial Garden
by Fran Sorin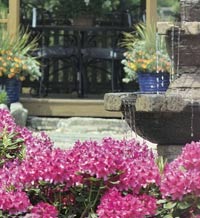 Planting perennials is a terrific way to exercise your creativity, which ultimately will result in a healthier you - both emotionally and physically.

If you would love to have a garden filled with an abundance of perennials but find the thought of actually creating it a bit daunting, you needn't. Planting perennials is a terrific way to exercise your creativity, which ultimately will result in a healthier you - both emotionally and physically. After more than 20 years of designing gardens, here is my insider's guide to how it should be done.
read in detail




Houseplants and Flowers for a Healthier and Happier You
by Fran Sorin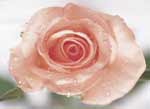 If you thought that all of those houseplants your mother used to tend to were strictly part of her interior decorating repertoire, think again. Over the past decade research, based on studies originally done at NASA, has found that significant health benefits are accrued when individuals surround themselves with plants. Some of the payoffs are that plants absorb carbon dioxide and toxins and minimize headaches, tiredness and sore throats. Plants help us recover from surgery more quickly and they calm our moods.
read in detail




Creating Sumptuous Holiday Centerpieces
by Fran Sorin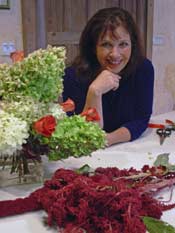 Adding touches of nature to your home will add beauty and will help you connect with the real meaning of holidays

With so many of us feeling stressed about the holiday season before the mad rush even begins, it might behoove us to take a few moments to come up with a calmer, more serene and meaningful way of ushering in these holidays. Whether you participate in the mad holiday shopping tradition or not, setting aside time to create unique floral centerpieces and adding touches of nature to your home will add beauty and will help you connect with the real meaning of holidays: giving thanks for the bounty, and sharing with our families and friends.
read in detail




From The Garden to Inside
by Fran Sorin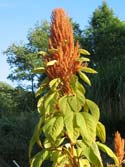 How to Create a Dazzling, Exuberant Cutting Garden

Your entire garden is in fact, a cutting garden. You can take cuttings from shrubs, trees, flowers, and bulbs to bring into your home to use for flower arrangements.

However, what differentiates an authentic cutting garden from others is this garden is created solely for bringing cut flowers into your home for your pleasure.

This past winter when I had time to read and ponder about changes in my garden for spring, the notion of a cutting garden seemed both lovely and extravagant. ..
read in detail




Add SPRING gardening to your EXERCISE routine!




by Dick Crum


People and plants are rejuvenated by the spring season

The dandelions are blooming and the moles are working. A sure fire sign that spring is here.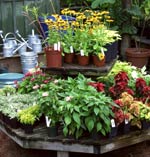 Have you noticed that people seem to be obsessed with grass? When I was a kid growing up on the farm, grass was very important. We had cows and they ate grass and gave milk. Today, people grow grass just so they can mow it and then complain about how fast it's growing. Spreading four or five applications of fertilizer annually is what makes the grass grow, but an application in September and again in November is enough fertilizer to keep lawns green and growing.

Lawn mowing wouldn't be so bad if the clippings were left on the lawn. However, it's the politically correct thing to collect clippings and put them in the trash.
read in detail




Winter Gardening Warms The Heart...
by Dick Crum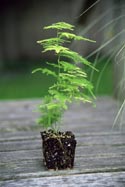 Since half the fun of gardening is the planning and anticipation of what is to come, the winter season provides a great time for this planning. The perspective on gardening changes as one grows older. The word "old" refers to someone who is 10 years or older. And as one grows older their tolerance of cold often goes down...
read in detail