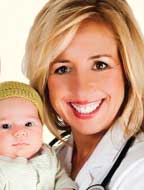 Carole Kramer Arsenault, RN, IBCLC, is a nurse, parent educator, certified lactation consultant, and the founder of Boston Baby Nurses, Bostonís leading baby nurse company. Arsenault and her ever-growing team of nurses have helped hundreds of parents through pregnancy, labor, birth, and the transition to their new role as caregivers with advice on breastfeeding, soothing, baby-care products, sleep schedules, and infant development.

Carole Arsenault and her crew of baby nurses provide lactation consulting to clients at Bostonís top birthing hospitals, including Brigham and Womenís Hospital, Beth Israel Hospital, St. Elizabethís Medical Center, Newton-Wellesley Hospital, Massachusetts General Hospital, and Mount Auburn Hospital. Arsenault practiced as a labor and delivery nurse at Brigham and Womenís Hospital for many years, and is also an expert on environmental toxins that may affect pregnant women and newborns.

She lives near Boston with her husband and their three children.