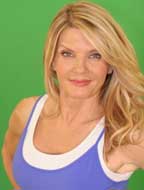 Kathy Smith has stood at the forefront of the fitness and health industries for more than thirty years with a collection of books, videos, audios, and DVD's on walking, cardiovascular health, nutrition, strength training, yoga, Pilates, menopause, dance, and all-things-exercise.

As President of Kathy Smith Lifestyles, she has sold over $500 million in lifestyle products and fitness equipment. In addition to her DVD library, Kathy is an accomplished author, with bestselling titles including Feed Muscle Shrink Fat Diet and Moving Through Menopause. She has also contributed her expertise on health and wellness to countless media outlets, including the LA Times, USA Today, The Today Show, Oprah, The View, Larry King Live, and many more. Smith recently launched Ageless with Kathy Smith, a new age-fighting DVD workout line with award-winning producer Acacia. The first workout, Staying Strong, was released in May 2011, with Total Body Turnaround coming out nationwide in November 2011.

Kathy has teamed up with Pivotal 5, the industry trendsetter in hand held fitness, to successfully launch two lines of products. In 2009, Kathy Smith partnered with Rejuvenation Prevention + Rehabilitation™ to create a line of seven products targeting the "Actively Ageless". These products pioneered the category of fitness over forty targeting key areas of interest including toning and firming to balance and mobility. Each item comes complete with DVD featuring Kathy Smith's uniquely designed workouts targeting total body fitness and overall wellness. In 2010, Smith helped develop the Kathy Smith Healthy Living brand exclusively for Ross Dress for Less® stores. This exclusive brand promotes the active living across all fitness levels with the Healthy Living System to guide customers to the correct equipment based on their fitness goals.