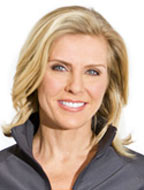 Andrea Metcalf was never overweight. A true athlete during her youth and college years at DePaul University, she loved teaching fitness classes and learning about the body. Armed with a exercise science teaching degree, and many training certifications, she started helping people achieve optimum health and eventually opened her own fitness studio.

To reach more people, she started pitching health tips to news and media. Over 28 years later, Andrea has built a trusted background as a health and fitness expert being a contributor to many national magazine mentions, (Fitness, Prevention, Shape & more), almost 1,000 TV appearances including the NBC Today Show, GMA Health and Better TV as well as the worldwide web being trusted by Oprah, Huffington Post, Rueters Newswire, Weekend USA Today and many others weekly on a weekly basis. A weekly radio appearance on the National Good Day Show as well as regular guest spots on Martha Stewart and Bob Greene radio, keep the words coming to the airwaves to inspire healthy living.

Fitness in your 40s, 50s, and Beyond: ANDREA METCALF, host of Keeping Fit: Strength, Cardio, Pilates, is a certified personal trainer, group fitness instructor, BetterTV's fitness correspondent, and author of Naked Fitness. Her DVDs provide the perfect mix of strength training, cardio, and core conditioning to help you stay fit and youthful for life. Learn more about Andrea at http://www.andreametcalf.com/index.php/meet-andrea. Additional information about her CDs is available at www.AcaciaLifestyle.com.